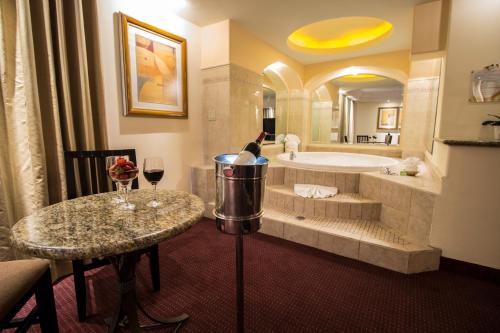 Hotel Ticuan is walking distance to the main tourist area on Revolucion, however the area is less crowded and a bit quieter. There are conveniently located convenient stores, tacos stands and restaurants. The staff is friendly and jacuzzi rooms are available for less than $100 at times. Highly recommend this hotel for more romantic adventures.
Hotel Caesars is right on Revolucion and can get very noisy at night normally, however the music doesn't last all night as in the past. The Hotel is home of the famous Caesar Salad, and many other great Italian dishes and wine. Great coffee can be had across the street at Cafe Praga. It is also near several bars, nightclubs, restaurants and shops. I highly recommend this hotel for those wanting crowded tourist experience.
For those on more of a budget and wishing to be in the heart of the action there is Hotel Velario located right in Zona Norte. This place is usually loud with many parties going on so don't expect to get much sleep. Of course sleep is not what you came to do in Tijuana!